SynXis®
The leading global hospitality commerce and distribution platform
Sabre Hospitality enables hoteliers to Go Beyond. To Go Beyond means surpassing limits, solving daily challenges, and outpacing the competition, so hoteliers can be more, and do more.
SynXis
Manage everything from a reliable, cloud-hosted platform with SynXis Central Reservation System. With over 600 connections, leverage a single system of record to drive accuracy, speed, and insight across all distribution channels.
Streamline your ecosystem and transform the way you operate with our portfolio of Sabre APIs, seamlessly connecting to and from the platform. Empowering you through flexible solutions, greater automation, and reduced certifications so you can effortlessly build, test, and deploy.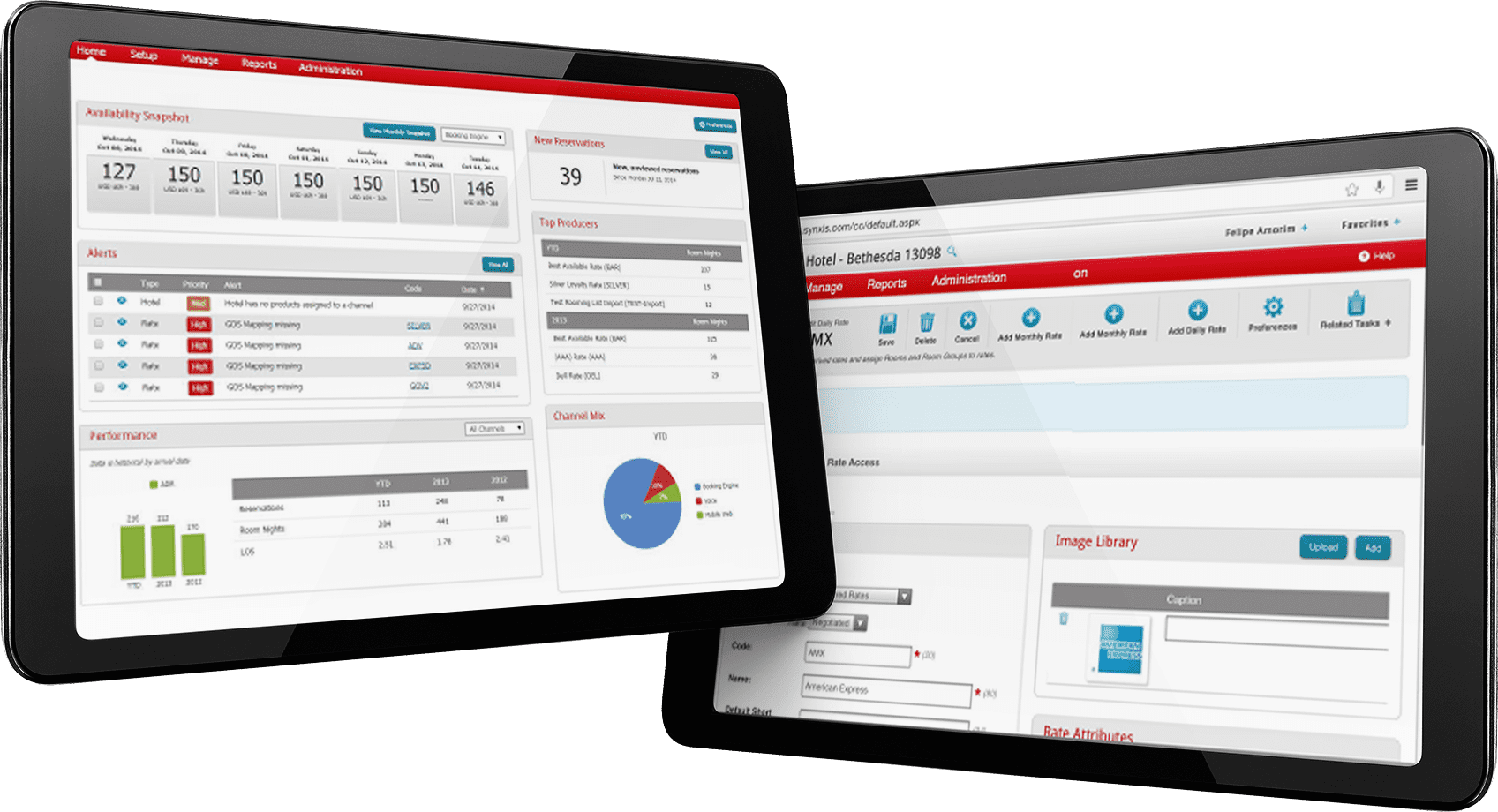 What will you create?
Sabre Hospitality offers Studios, spaces where hoteliers are empowered to create their hospitality to Go Beyond​. Each Studio is filled with tools designed for a specific purpose – to configure distribution, retailing, operations, and more​. Within Studios, hoteliers can harness the full power of SynXis to drive innovation, streamline connections, and focus on what matters most – the guest​.
Retail
Studio
Hospitality is about creating moments that remind guests why they travel.
What if you could shift from filling rooms to truly seeing your guest? A space where you can enable choice, differentiate your brand, drive conversions, and expand revenue. The opportunities are endless.
Distribution
Studio
Distribution is more than extending your reach, it's a personal introduction.
What if you could build a true connection with travelers? An easy, reliable, consistent connection through your website, GDSs, and indirect channels including OTAs, and Tour Managers.
Acquisition
Studio
Brand awareness is the foundation of acquiring guests.
What if you could increase visibility with your target demographic? Increase brand exposure and conversions by amplifying your online presence. Design tailored marketing strategies to optimize digital advertising and drive business to preferred channels.
Operations
Studio
Communication is the key to elevating service.
What if you could optimize operations while also improving the guest experience? Deliver service that keeps guests coming back with a technology that elevates what a PMS is capable of. Communication is the key to ensuring consistent, elevated service that builds confidence among staff and guests alike, exceeding expectations while doing more with less.
CRM & Loyalty
Transform your loyalty management.
COMING SOON
Success
Studio
The key to success is having support when you need it.
What if you could receive the same level of hospitality as your guests? Receive a range of options from a partner who understands your business. A space that offers implementation support, channel health checks, training and development, full-service consulting, and 24/7 care. As your business evolves, so does your support.
Performance
Studio
Information helps you understand your business, insights inspire you to drive performance.
What if you could analyze your SynXis distribution data in one place? Giving you the visibility to understand your business and simplify decision-making. Evaluating the booking behaviors of today that drive distribution decisions for tomorrow.
SynXis® Insights
Visualize Data.
Gain Insights.
COMING SOON