Photo credit: Microsoft
Chatbots allow brands to communicate and sell to customers in a way that's informal, easy-to-use and fun. And they're quickly becoming a key information and shopping channel, with eMarketer reporting that 67 percent of Millennials say they're likely to buy products or services via chatbot.
Soon, hotels will be able to build their own interactive chatbots using information that's already available online. Microsoft recently began rolling out its Bing Business Bot feature for Bing Places for Business users. Currently available only to restaurants, the Bing-based bots are promoted as "a virtual employee for your business," capable of answering questions and efficiently managing customer communication.
The restaurants participating in this rollout first answer around 50 simple questions, then a "Chat" button is added to their Bing Places search results page, inviting users to ask the bot questions.
These sample questions include…
Do you take reservations?
Do you have gluten free food?
Do you accept mobile payment options like Apple Pay or Google Wallet?
Do you have outdoor seating?
The chatbot pulls data from the Bing Places listing; if a user asks a question that goes beyond this data, the bot replies with a phone number they can call for further help.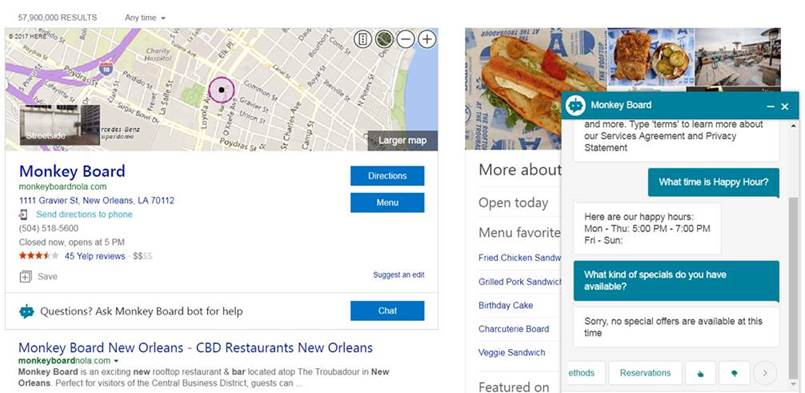 Maybe more exciting than the new feature itself is what it signals for hoteliers: Chatbots are becoming not only more widely used, but easier for businesses to implement. With technologies like Microsoft's Bot Framework, chatbots will become smarter and easier for guests to interact with – providing information on rooms and amenities within the search engine results page, pulling from data that hoteliers already have online. There's also the potential to create a chatbot once, then publish it across different sites, adding new channels such as Cortana or Skype with the push of a button.
Before long, this technology will come to be expected by guests. Already, according to Phocuswright, there are more users of chat apps worldwide (including WeChat, Facebook Messenger and WhatsApp) than there are users of social networks; by 2018, 3.6 billion people will be using chat and messaging apps. As chatbots become more common, expect to see more guests instinctively looking for the "Chat" button instead of a phone number or email address when they have a question about your hotel.
Hoteliers need to plan now for the evolution of traditional SEO tactics that will enable them to take full advantage of this new technology. As chatbots and voice assistants such as Alexa and Siri become more widely used, hoteliers must adapt to anticipate brand- and property-specific search queries – questions such as …
"Is (hotel name) pet-friendly?"
"What time is checkout at (hotel)?"
"How far is (hotel) from (name of attraction)?"
"How much is a room at (hotel)?"
You'll also need to anticipate discovery questions – queries that aren't brand-specific, but relate to your location, like "What hotels are closest to the Eiffel Tower?" or "What's the best hotel in San Francisco for families with kids?" In addition to location-based variations on pricing and amenities, expect chat questions about the restaurants, events or attractions available nearby and how far away they are from your hotel.
Chatbots provide additional ways to engage, inform and inspire your guests, alongside traditional on-site search engine optimization tactics. As this technology evolves and becomes more common, now is the time to make sure your hotel or chain is prepared to make the most of this new channel.
Learn more about Sabre's Digital Experience team today and contact us to find out how we can help you build a better search strategy for current and emerging technologies.
Don't miss any hospitality industry research or news headlines from Sabre – click here to receive our monthly Hospitality Insights digest and other email updates.