Yes, there has been yet another change in the digital marketing world of hoteliers! Google, far and away the dominant force on metasearch, announced they will begin to offer users greater rate transparency in Google Hotel Ads and in hotel searches. This change is in response to consumer requests for more visibility into taxes and fees – something Sabre Hospitality Solutions has also found to ring true through the SynXis Booking Engine's user experience (UX) findings. Ultimately, users want to know the total amount (real cost) of their hotel stay.
OTA channels continue to be driven by finding the best price for shoppers booking travel and, as a result, often only show users the base rate upfront to drive conversions on their respective sites. The reality: some prices listed may appear better than other prices in the sort order but are actually the same — or higher.
For many people, a lot of vacation planning starts on Google. And Google wants that planning to end there too. For the past few years, they have taken more and more steps to better help potential travelers research vacation destinations. In 2019, they stepped up their efforts and consolidated a lot of their travel tools and information into Google Trips (see our recent blog Google Trips: More and More Travelers Are Looking to Google). The underlying thought is to make all aspects of a vacation easy to research and book without going elsewhere. Google Hotel Ads has been a large part of this by giving guests rate information before clicking away from the search result page.
The Impact to Hoteliers
Based on Google's policy, only users outside of the US, Canada and Israel will see hotel rates with taxes and fees included by default. This means users in the US, Canada and Israel will still see the base rate upfront. Only when a user gets to the hotel's booking page do the full taxes/fees need to be disclosed. However, users in these countries will now also have the option to switch from seeing the rate exclusive of taxes and fees, to seeing the rate with taxes and fees included. There is also an option to see the total price for the full stay with taxes and fees included, for however many nights are selected.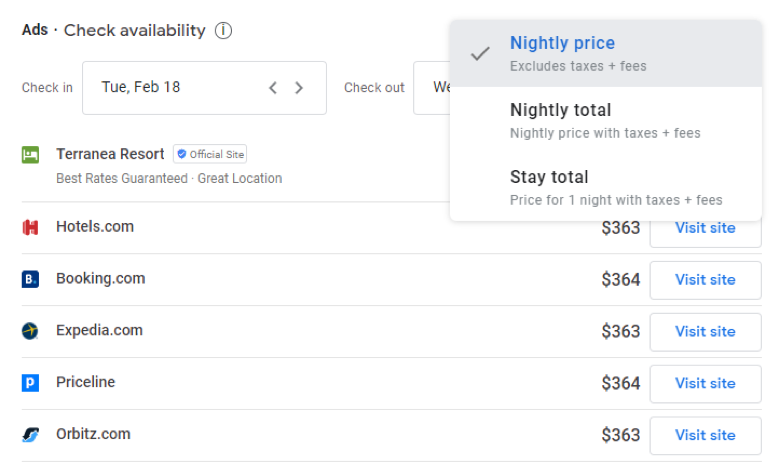 This means that for users here in the US and Canada, Google still highlights the value of the base rate more prominently. In all other countries outside North America, except Israel, the total price (including taxes and other fees) is more notably shown. It's also important to note that international users searching for hotels in Israel will see prices exclusive of taxes and fees; however, users in Israel searching for hotels in Israel will see prices inclusive of all taxes and fees. Like with any new policy, Google reserves the right to amend the way in which it displays prices to comply with local law or other requirements.
Within Google's Price Accuracy Policy, they evaluate price accuracy on three criteria to ensure a good end-to-end experience for users:
When a user clicks through from Google's site to the partner's booking page, the total price shown on the booking page should be prominently displayed and be the same as the total price displayed on Google's site.
The booking page must comply with our Taxes and Fees Policy, which ensures all mandatory rates, taxes and fees are fully disclosed to the user.
The hotel booking flow must comply with our Referral Experience Policy, which is intended to make sure there is a friendly user experience when clicking off of Google's site.
Other Interesting Google Developments
Google continues to take new steps to advance their efforts into informing a traveler and is now looking to provide its users nearly all options for completing their bookings. Another recent change along these lines gives travelers suggestions on the best neighborhoods to stay in for their destination based on popularity and score. Google also provides users with an idea of how busy a destination is and what the weather might be like during that time. Taking this holistic view even further, they also offer recommendations on how much travelers can expect to spend based on the time of year and the type of hotel they may want to consider.
It will be interesting to see how these recent developments will affect the marketplace – and how OTAs will respond.