In mid-2017, Google rolled out the "Question and Answer" feature on the Knowledge Graph, allowing users to ask and respond to questions about the listing. The screenshot to the right shows where the Questions and Answers are featured in the Knowledge Graph.
Anyone can answer the questions that are posted, which is both a pro and a con.
Pros: Quick answers from the community
Cons: Customers might be giving incorrect, biased, or irrelevant answers
In the examples below, you will see an accurate and thorough answer from the listing owner, as well as answers from Google Local Guides. In this instance, the Google Local Guides who responded to the question did not have accurate information.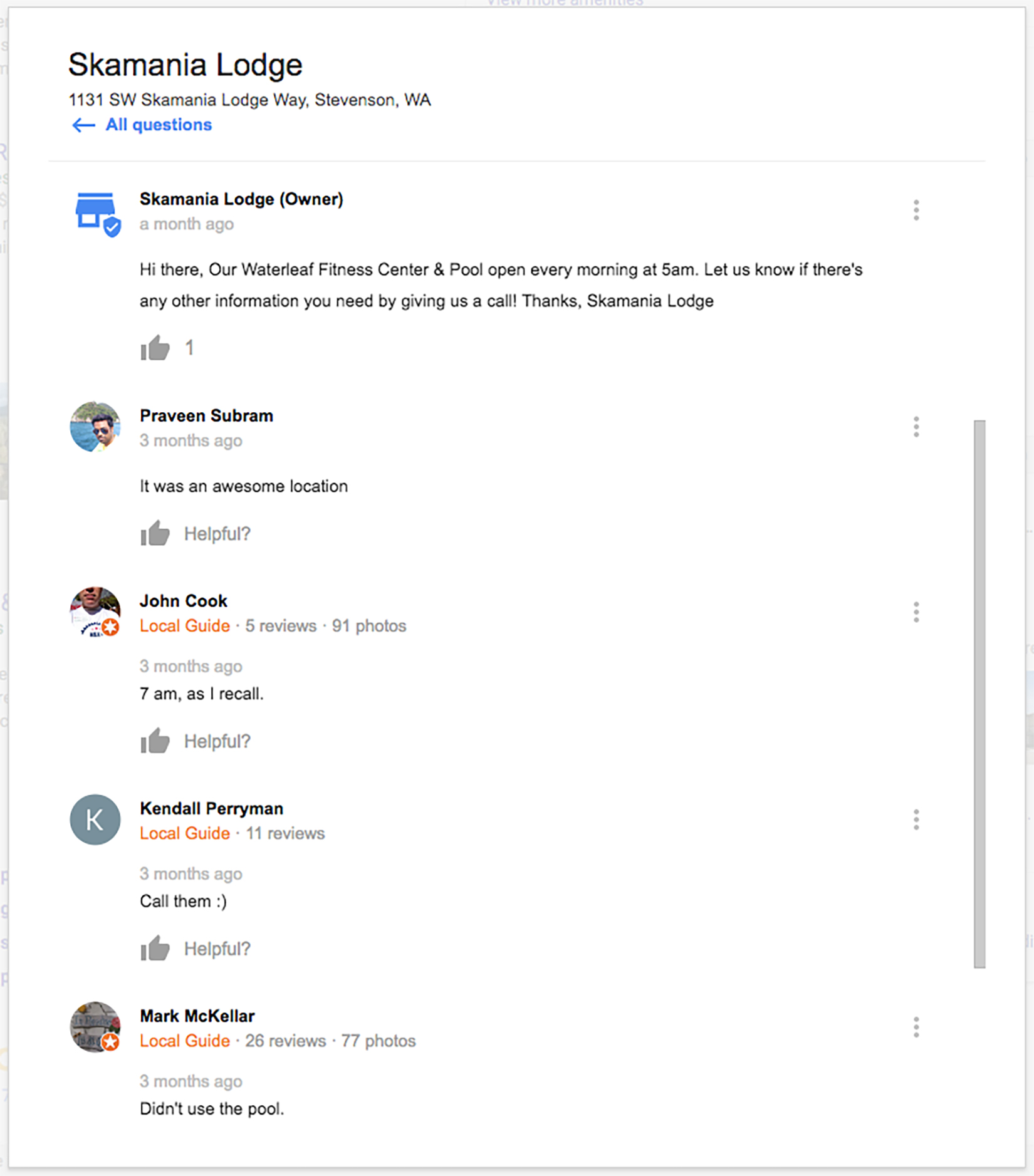 We recommend that the properties answer directly, as it is an opportunity to have FAQs correctly answered at the top of Search Engine Results.
Things to Note:
You will not receive a notification email when a question is posted on the Google My Business SEOoDashboard
We recommend installing the Google Maps app on mobile and ensuring that notifications are turned on
Log into the account that you use to manage your listing, and it will send you push notifications when a new question is asked.
Google has a set of guidelines to remove questions and answers that violate their guidelines
Local Guides are doing a majority of the answering, as they receive points-per-answer towards discounts from Google
These guides may answer even if they don't know the answer
There is typically 1 question/answer featured on the Knowledge Graph. The question/answer with the most number of "Likes" is shown.
Responses from the owner will be the most influential. Sabre recommends that hotel owners respond directly to Google questions. There is potential for reputation damage if these questions are not monitored.
What do hotels need to do?
Translate your top 5 FAQs into Questions on Google, and answer them from the Owner account.
Monitor the listing, and answer questions when you can.
Visit our Digital Experience page to learn more, or contact us to find out how we can help with your digital strategy.