Without solid industry data, competitive benchmarking is difficult or impossible. And with consumers' shopping and booking behavior continuing to evolve, it's vital that you take time to examine your digital marketing strategy.
Since regular competitive benchmarking is key to evaluating your position within an industry, you need accurate and up-to-date data. And since the goal of competitive benchmarking is to drive continuous improvement based on established best practices, your strategy has to start and end with customers.
Our Digital Experience Team just compiled an infographic detailing the most important digital experience trends in hospitality, based on analysis of hotel shopping and booking data throughout 2018. Data gathered across thousands of website sessions shows how the ways guests shop are changing, giving us a view of that evolution in consumer behavior.
Your hotel's digital marketing mix needs to be reevaluated regularly, and this process can't be done in a vacuum. These data points give you an opportunity for some much-needed "benchmarketing" – adjusting your strategies to be in line not only with what you know about your guests from your properties' and site's performance, but what you can learn from the best in the industry.
Case in point: While visits from desktop PCs are still the prime source of revenue generation, breaking down revenue by device shows us that revenue from mobile visits went up 43 percent year-over-year from 2017 to 2018. At the same time, visits to hotel websites on mobile finally overtook desktop computers in 2018, with 47 percent of visitors on mobile in 2018 up from 41 percent for the same period in 2017.
Seeing those kinds of statistics should prompt some questions among your digital marketing team: Are we making it easy for guests to find the information they need on our website? Are we giving them reasons to book directly with us? And perhaps most importantly, are we making it easy to start searching on their phones or tablets and then pick up the search later, perhaps on a laptop where they're used to making a purchase?
Our analysis of year-over-year shopping and booking data paints a picture of guests who do their research and visit hotel websites before they book – facts which we also discuss in our playbook for direct distribution, which looks at the changes in consumer behavior that can help us understand the different needs and expectations of frequent travelers versus occasional leisure travelers.
But more importantly, it gives you a look at the competitive landscape so you can not only benchmark yourselves against other hoteliers but adjust your strategies to capture more traffic and more revenue in 2019.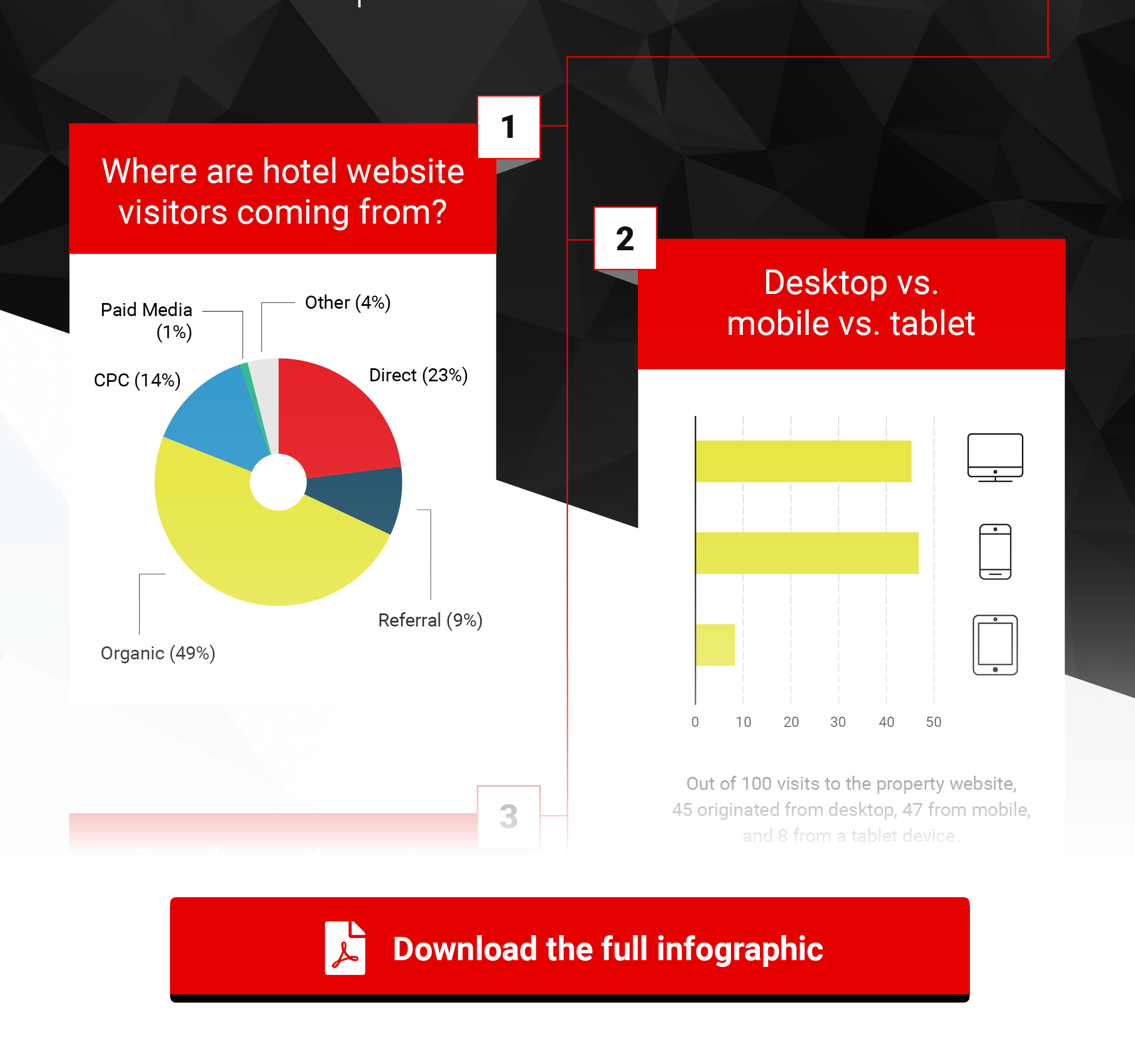 View the infographic for a detailed breakdown of 2018's hotel digital experience trends and learn how they are impacting the online shopping and buying experiences you create. At the end of the infographic, you'll find a link to a free assessment designed to help you identify gaps in your strategy and ways to strengthen those areas.