Blue Diamond Resorts, part of the Sunwing Travel Group, is a growing hotel collection that operates a variety of all-inclusive properties across the Caribbean, Mexico, Central America and Florida. From Royalton Saint Lucia to Planet Hollywood Beach Resort Costa Rica, this multi-brand group oversees 24 properties within 8 brands, providing a wide range of hotel-types to suit the interests of different travelers.
The Blue Diamond Resorts team was quickly growing their multi-brand portfolio in the all-inclusive market. Between individual property success and adding hotels, the Blue Diamond portfolio expanded leading to an increase in overall transactions.
While hoteliers generally celebrate an uptick in hotel bookings, the transaction increases magnified their technology issues.
Blue Diamond Resorts technology stack consisted of disparate systems across many vendors constraining configuration, connectivity, and rate management capabilities. Blue Diamond Resorts lacked dynamic pricing capabilities and relied on highly manual processes for rate management. In addition to the pricing model, the volume of tour operator bookings in the Caribbean all-inclusive market complicated rate management.
There was one fundamental challenge that we had at the onset of our program, which was being able to support our pricing model.

–Ami Patterson, Program Manager of Information Technology
With all these technology-based hurdles, staying competitive became increasingly difficult for this quickly growing hotel group. They needed a change fast. They began looking for a technology partner that could provide them not only with a powerful platform but also a partnership that offered guidance along the way.
Pursuing a powerful partnership
As the team began the transition from their existing technology, they leveraged Sabre's Solutions Engineering Team to identify pricing and rate management functionality that could reduce, or even eliminate, inefficiency.
"We would update the rates on the extranet, or we would manually send them a rate sheet every time we changed our pricing," Tamer Dalati, Vice President Revenue Management and Distribution, explained. "All of this created a very cumbersome way of managing the pricing where different platforms had different timing to update, creating rate disparity in the market for us."
"I give kudos to the Sabre team in collaborating with us and being so persistent in arriving at a solution that actually works," Patterson said.
Blue Diamond Resorts implementation program kicked off during the height of the COVID-19 pandemic. Through all the uncertainty, the Sabre project management structure provided reliability.
"It was an extremely positive experience having such a structured project management methodology and all the expertise along the way throughout the implementation. When it comes to the experience in working with and collaborating with the Sabre team, responsiveness has fundamentally been one of the keys to our success," Patterson said. "Having that immediate responsiveness with the team and their agility and willingness to pivot with us…those factors have really helped our relationship to grow."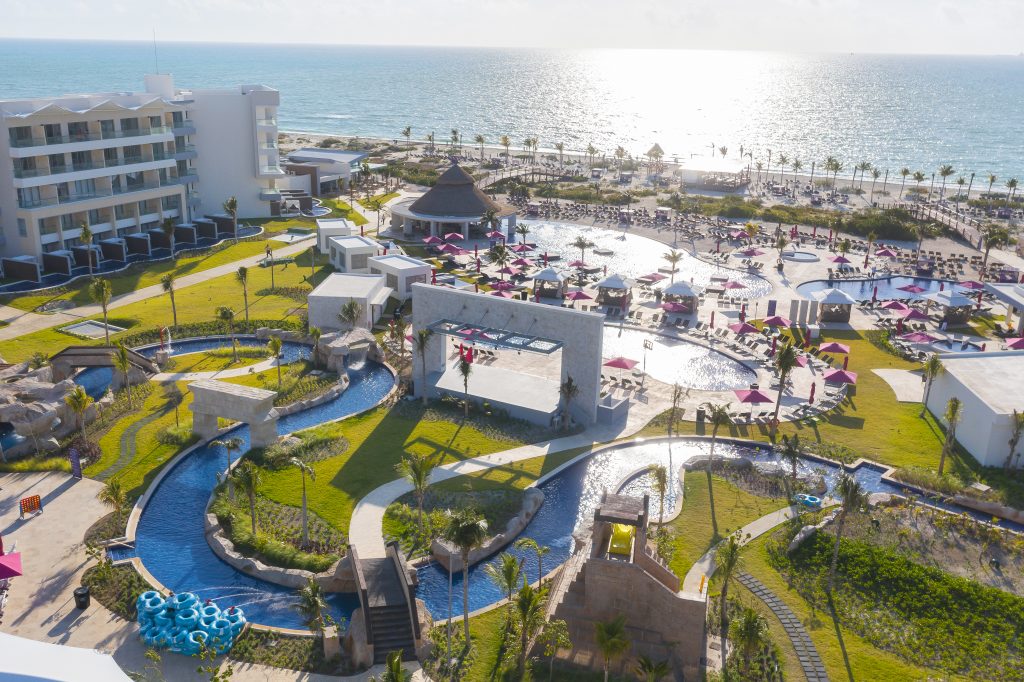 Driving direct revenue up 250%
Sabre's partnership-style approach provided Blue Diamond Resorts with solutions for both current and future growth.
"Now SynXis is the center hub where everybody is connected," Dalati said. "The two-way connectivity allows us to build our pricing dynamically and provides substantial ease. As we move our BAR rate everything else changes." When launched, the changes were immediately felt by not only the Blue Diamond Resorts team, but also their partners.
"It was really very exciting to be able to launch the promo at the same time on our website and with all our connected partners," Dalati said. "Now simultaneously everybody is getting the promo and different markups, showing the correct net pricing that is in parity with our BAR rates."
In addition to simplifying pricing updates, the SynXis Booking Engine provided this B2B-focused team with connectivity, flexibility, and the user experience needed to claim a stake in the B2C market.
The team enlisted the Sabre Digital Experience team for guidance on increasing website traffic and conversion.
A targeted Meta campaign boosted organic clicks by 700%.
"Direct business has seen huge growth since we moved to SynXis," Dalati said. "Our booking engine is way bigger than pre-COVID, in terms of pace and number of bookings. This was a huge success for us to be able to start and see that B2C business coming into our hotels directly from the customer."
Online direct revenues have increased 250% since moving over to SynXis.
"After all the time, training, setups, and testing we made it all work out perfectly," Dalati said. "It's working great and its delivering."