"Using GDS media strategically has proven to be very successful for TFE Hotels. We thank Sabre as our partner for advising us on what works and what does not so that we could make the most sensible return-on-investment decisions. We had a successful winter with exceptional results on the GDS."

Rachel Argaman
CEO, TFE Hotels
One of the best ways for a hotel to stand out in a crowded marketplace is to be noticed by travel agents, whose job it is to find the best options to fit a traveler's needs.
TFE Hotels, a leading hotel operator with properties across Australia, New Zealand and Europe, partnered with Sabre to identify opportunities to highlight their brand in the GDS. The Sabre team created targeted cluster and individual property campaigns for Australia's 2016 winter travel season.
With eye-catching creatives and prime placement in travel agents' workspace, the promotions offered limited-time offers and progressively larger discounts for longer stays, up to 20 percent off BAR, in addition to complimentary unlimited wireless internet, late checkout and a welcome gift for guests.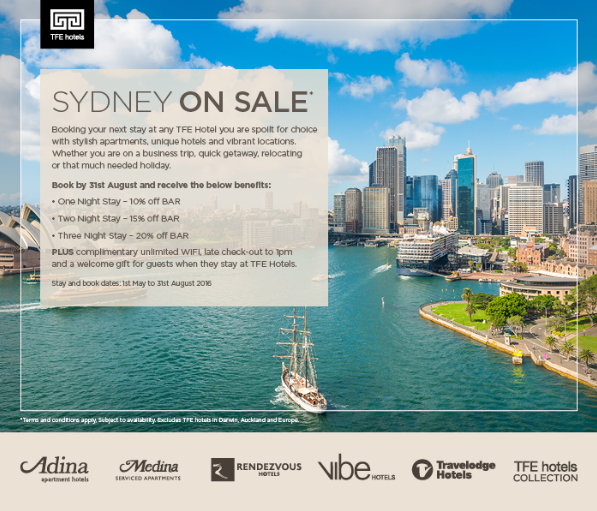 The results of these campaigns were impressive. The cluster campaigns in Sydney, Melbourne, Brisbane and Perth, combined with nine individual property campaigns, resulted in a 37.5 to 1 return on campaign investment.
Equally impressive was the growth in reach that TFE Hotels gained from these campaigns: a total of 727 new agency bookings, accounting for 5.5 percent of all bookings from these promotions.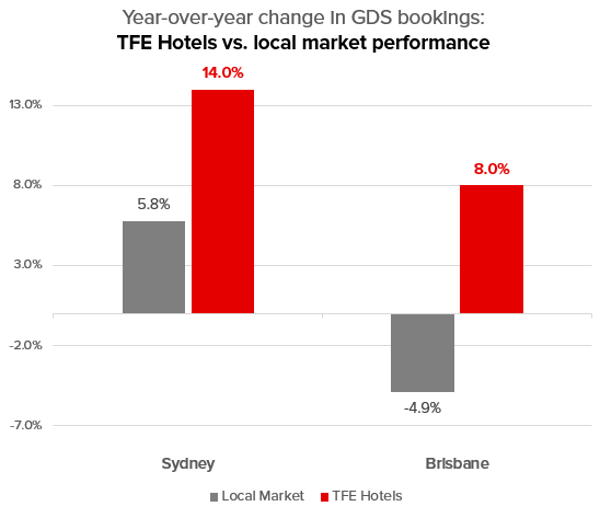 As a result, TFE Hotels outperformed the local markets during the campaign period. The Sydney cluster campaign led to a 14 percent year-over-year growth in bookings at participating hotels; year-over-year bookings in the Sydney market grew by only 5.8 percent during the same period. And although bookings in the Brisbane market dropped by 4.9 percent year-over-year during the campaign, TFE Hotels in the Brisbane cluster saw their bookings increase by 8 percent year-over-year during that time.
Contact the Sabre Hospitality Solutions team today and find out how your hotel could see similar growth from targeted GDS promotions and messaging.