MAY 2023 | ISSUE #4
Retailing Excellence Special
"Only Policies? Well, not really…"
By Derek Hervey | Retailing Excellence Lead at Sabre Hospitality
Early adopters of SynXis Retail Studio are catching the vision of where the market is heading, it's all about elevating the guest experience through expanding the array of offerings across all categories. This initiative won't just drive incremental revenue per guest but will also generate customer loyalty.
Let's look at an aggregate view of categorical demands by guests over September, October, November, and December time periods in 2022. This key performance indicator was generated as a weighted average over this four-month stint to further tease out outliers.
Firstly, we see that services, goods and experiences outpaced policies with higher unit velocities, and therefore higher attachment rates were generated at time of digital booking.
Secondly, though not highlighted above, the highest performing ancillaries were transportation offerings and breakfast services which both fall under the service category. The ancillary unit transactions percentages for the service category is growing month over month.
Clearly, offering a comprehensive solution for the guest by expanding across all categories, "not only policies", will drive customer loyalty. In fact, a recent article published by PhocusWire mentioned the following:
"According to a TUI group customer survey, vacations that include excursions, activities and tickets have an 18% higher net promoter score (NPS) against those that don't – a very significant difference and a statistic that shows the key role experiences can play in driving customer loyalty. Combine this with growing tours and activities market with an ever-increasing volume of online bookings, and travel businesses have a prime opportunity to grow incremental revenue and foster customer loyalty by adding experiences to their offerings."
Which brings us back to…"Only Policies? Well, not really…", this can be substituted by making sure all categories are being represented in SynXis Retail Studio's virtual store.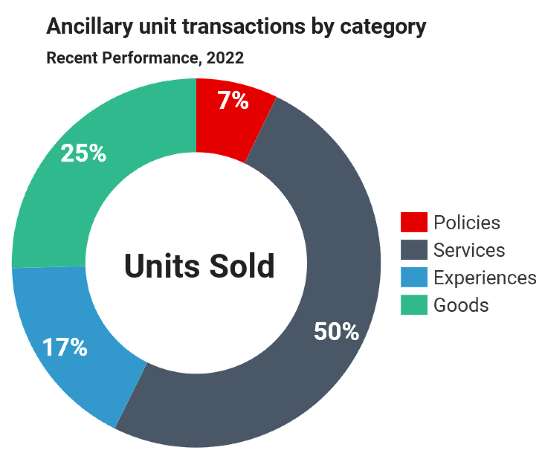 Are you ready to see an increase in ancillary revenue?
with SynXis® Retail Studio™